(Reading time – 12 minutes)
A hike that was supposed to take 8.5 hours turned into 2 days.
Sleeping on rocks, eating oranges off the side of the road, and turning the corners only to realize l wasn't halfway.  A tale about the ups and downs of a long distance hike that mimic journeying overseas.
Plan.
How long will it take to get from Chania, Crete to Omalos, Crete? 8.5 hours and 36 kilometers(22.36 miles), according to Google Maps.
What will I use to navigate to my destination? Google Maps, but make sure not to close out of the application otherwise, your travel plans get deleted
What should I pack? As this question came about the options of what to bring scurried across my brain. If chose to not bring everything, then I was going to have to buy another night at the hostel(12 Euros), which I did not necessarily want to do because I was trying to save as much as possible. Everything then. Everything I brought overseas was also coming with me on this small escapade across Crete.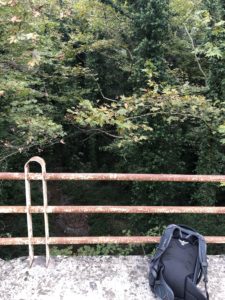 My backpack: Not sure how much it weighs, but probably around 40 pounds
Backpack (Osprey 40 Liter, carry-on converter backpack with hip straps)
3 pairs of shirts
1 pair of Carhart pants
1 black puffy jacket(For the cold days)
4 pairs of underwear
4 pairs of socks
laptop and charger
Iphone and charger
Toiletries(Toothbrush, toothpaste, goldbond powder, Contacts, glasses, etc.)
2 books

 "Vagabonding" An Uncommon Guide to the Art of Long-Term World Travel
"The Art of Happiness" -Dalai Lama and Howard C. Cutler

20 Comics (Various  X-men comics for my entertainment without wifi. Proved handy in the states)
Universal plugin converter
Hat
Sunglasses
Passport
Wallet
Planner
1 towel
Headlamp
2 1.5 liter water bottles
pair of hiking shoes.
Pair of Solomon Cove shoes (my running shoes)
Pair of Camel Sandals( bought in Old City Jerusalem)
3 journals (Mini Composition Notebooks. Brought because these fit into your pocket)
Walk.
12:00: As the walk begins, the first hour blows by unnoticed. As the second hour comes to a close, my feet have the blisters from recently purchased sandals. A quick stop to change the shoes on the feet came next. Still motivated by my initial plan to walk to the mountains, I press on.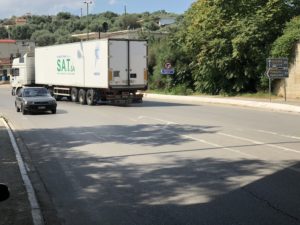 First sign for Omalos
3:05: The first breeze from the mountains glides across my face. New inspiration. I felt close. I felt I'd prove Google Maps wrong and destroy the time set out by the GPS. A second reach for the phone and quick check of the itinerary humbled me, the arrival was still 8:30 pm. There's no way this can be.  The backpack started to feel heavier. My back feels like it was beginning to droop a bit. Morale lowered, I take a 15 minute break. Mustering the strength to get back up, I press on.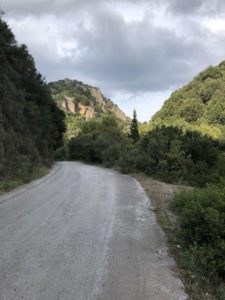 5:05: Weariness creeps in. The mountains seem much larger than a couple of hours before.  Makes me think that I'm not even halfway up this hike.  Doubt creeps in. The devil is on my doorstep telling me to quit and get a hitchhike up the mountain. He says "Come on man , it'll only be 25 minutes and you're there if you hitchhike."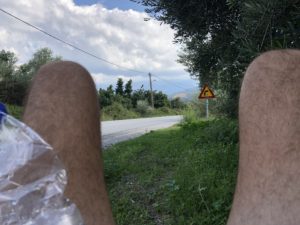 5:15: I hear the voice again. "Dude why are you stressing this man? Let's be smart, ask for a hitchhike from the next car that passes.  They'll pick you right up. You won't even have to try." I press on, focusing on why I begin this trek in the first place.  I pass by multiple villagers that give me a pity wave, like they feel bad for me hiking up this wretched mountain.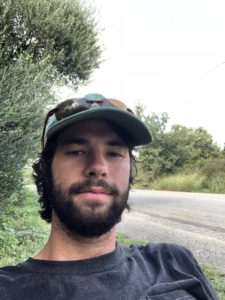 5:20: I reach gravel road. I come upon this siphoned type system of tubes that seem to reach all the way down the mountain.  Currently in a bit of a ravine, there seems to be some good areas to rest around me. I choose the area that seems the driest and I lay my pack down.  Relief. Instantaneous relief.  I know its going to be a good rest.  Although I'm not expecting what the the night brings with it.
I take out my blowup camping air mattress.  Lay it out, with my backpack as my presumed pillow. I reach into my pack and take out a comic.  I devour that comic quickly without much sense of drowsiness since sitting on the blowup mattress. I take out another comic and devour that one as well.  I feel as if I should get up and keep moving up the mountain, but my air mattress is too much of a hassle to deassemble and pack back up. This creates a kind of crossroads in my mind about using energy in the way that I should at this point. Stay here and continue resting or get up and keep moving up the mountain and who knows if you'll find another spot like this to sleep again.
Sleep.
7:00: I decide to sleep here. From my pack, I take out my carharts, slide those on my legs. I take out my black puffy jacket and throw that on as well. I figure that it would be best to sleep with my shoes on because my feet won't get near as cold, so I slide on my hiking shoes. I take out my towel and wrap it around my face because I know the mosquitoes are going to be rampant. So imagine a person, fully clothed, with a towel wrapped around his head laying on top of a small air mattress. Also imagine a stiff backpack – there is a laptop inside – and the air mattress losing air throughout the night quite quickly.  This was my attempt at this seemingly foreign concept called sleep.  Sleep up to then, I had taken for granted.
11:00 : After hours of tossing and turning, sleep is achieved. At this point I had tried many different postures for sleep, on the back, sides, and belly.  I was also sleeping on top of my hands because if I had not the mosquitoes would have torn my hands up.
1:00 am: I wake up. Towel a bit damp, as well as the outside of the pack, I realize that the pack has been open all night. I notice the rocks around me are damp and that temperature had dropped quite significantly. Also a slight breeze coming down the mountain. All of these factors together had brought on a longing for a blanket and a deep paranoia.  A longing that I will remember forever and  a paranoia I can always use later in life.  Imagine standing in a thunderstorm, with an umbrella, and the wishing for a roof. The thunder and lightning, in my case, being like an animal that I wasn't aware of being in the area, and the rain, being the brisk chilliness of the air and damp ground around me.  That kind of longing. As I pack everything back into my pack, I assume the belly sleeping position.  With my hands under me, I try to fall back asleep.
2:00 a.m.: Sleep is achieved.
4:00 a.m.: I wake up again. I notice a sharp pain in my lower back. I notice that the pack is about 3x as wet as it was when "I went to sleep" at 1:00 am. I notice that the backpack feels much more like a rock than it did before. I also notice the bottoms of my pant legs are becoming damp. I know that there is a few more hours to sunrise, and I will wake up with the sunrise, but it seems like 3 days away instead of a few hours. The reason being that I knew I had to try and go back to sleep for the next few hours, which was going to be a battle.  I lay my head back onto the mattress assuming the belly sleeping position with my hands tucked under myself.  I have this tool that I use whenever I have a hard time sleeping.  It goes like this.
I first remember what my grandfather slept like in the first years of his life up until he was about 15. He grew up in Moundville, Alabama where the average temperature is seemingly 90 degrees year round.  He has no A/C and a dirt floor to sleep on with 4 brothers and a mom and dad in a shack that is about 10×18. So super small. Next, I think about if I would rather be there right now, and I say to myself invariably, no, every time. This puts me in a mindset of comfort. It never fails. It seems to do the trick.
4:30 am: I fall asleep
7:15 a.m.: Waking up. I pack my things and begin walking up the mountain once more.
Walk.
8:00 a.m.: Crossroads. Google says to turn left, my heart says to move straight.  Very certain that google wants me to turn left, I continue straight. I'm still on a gravel road at this point, and the road I'm trying to reach is perpendicular to the route my heart wants to take. The only issue is, that google maps doesn't label the gravel road on which I am about to embark upon on the map. So the decision was made that I was going to go up this mountain and go with my heart instead of the map.
8:30 a.m.: The gravel road ends, and I'm left with farmers trails that continues up the mountain. The farmers are forced to farm on a mountainside because the grounds on this mountain are much more fertile than the lands off the mountain where its much more desert-like. On the mountain the ground seem more wetland and kind of a gorge type landscape with plenty of water coming from the top of the mountain. So there are quite a few trails through their farms, initially.
8:45 a.m.: The gravel roads turn into even more barren trails. These trails obviously have not been on in quite some time. I'm beginning to question myself, but I know if I turn around and go back down the mountain take that wretched google map route, I'll have lost a lot of time. I'll question myself the rest of the trip, and I'll have to backtrack my steps.  I find these barely used trails through thorn bushes that If I take, It may tear up my pants and I may injure myself quite severly, but I choose to take them. The alternative would have been much worse, moving back down the mountain.  This happens about 3 times. I have to make sure to step on top of brier bushes, keep my balance on them while walking up a 50 degree angle mountain to insure that I don't fall back down the mountain and destroy everything I own.
9:00 a.m.: I check my phone again, and I seem to be getting much closer to the gravel road that means I've made it out of the off the beaten path trails with briers and huge bushes that illicit massive amounts of energy from my side of things. There seems to be an opening up ahead, so I make one last decision to reach for that and hope to God that that's the gravel road because otherwise I'm going to have to go back down the mountain through everything that I came up.
9:15 a.m.: SUCCESS. The Gravel road is there I've made it. The feeling of gratitude an relief sweep over.  I'm out of the unknown and google readjusts for my new route. I've skipped over route that seems like it would have taken hours to do. Its easy to imagine at this point because I feel like i've been put through the wringer and spit out again.
Looking back at Chania.
10:00 a.m.: The gratitude and relief have slipped away at this point I'm back out on the long stretch of road to get to my destination. I turn around to take a look at how far I've come and that seems to be the battery in which I pull energy from.  Everytime I feel tired I remind myself, "A good traveller has no fixed plans and is not intent on arriving" -Lao Tzu, "The Tao Te Ching" and Confucius's apprentice.
11:00 a.m.: As I turn each corner I wonder where the city, Omalos will be. The ground begins to level out somewhat, but as the corner is reached mountains are the only thing in view. I'm also deep enough into the mountains where I cannot turn around and get energy from my "battery".
Arrival.
12:00 p.m.: Another corner reached and Omalos is now in sight. Appreciation, gratitude and many other emotions sweep over. I realize how the olden people use to walk everything when there were no cars. This gives me insight into appreciating a car ride that can take my across the country, or across a region. What takes a day in a car would have taken weeks to do on a walk. . I feel this is a new skill acquired. Gratitude for car rides.
The Coca Cola I drink in the nearest restaurant has never tasted so good. I haven't had a coke in years.I seem to sink into the chair. A deep sense of relaxation takes over. I actually have no choice but to relax. There is absolutely nothing else at this point. I reflect on the journey up the mounts. I think about how great the feeling is to have traveled days to a place. I think about the hospitality received from my hosts in Omalos.  I think about how my body is so thankful to be sitting and resting. I think about gratitude. I think about the power that comes with gratitude. I think about thankfulness and the power that comes with that. I think about being well. I think about health and happiness. All is well. All is well.
Inspired by the following:
"The 4-Hour-Workweek" – Tim Ferriss
"Vagabonding" An uncommon guide to the art of long-term world travel by Rolf Potts